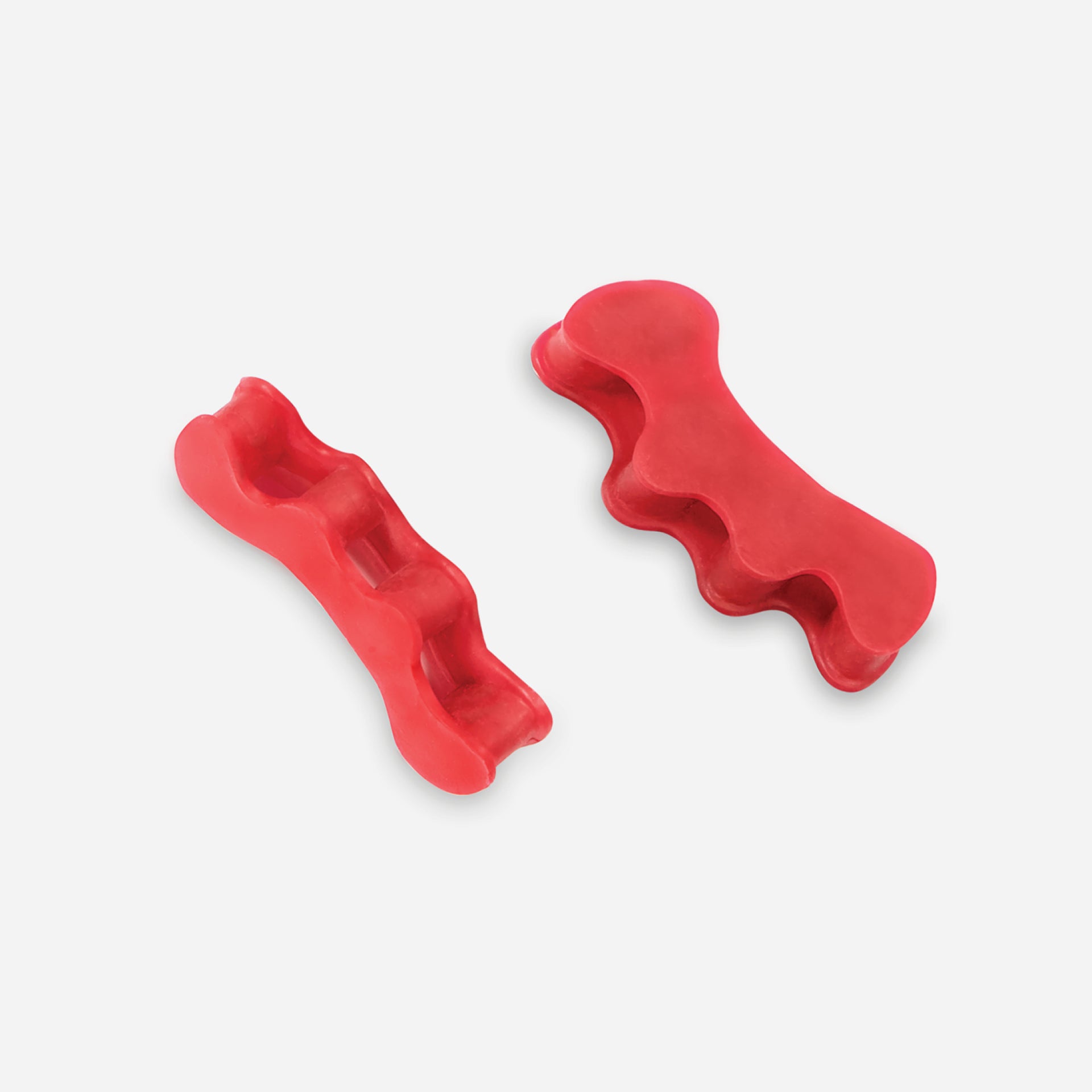 The Hallux 1.0 is designed to allow your toes to spread optimally. This process can be helped by wearing your shoes with a pair of toe spacers, but also when you walk around at home barefoot.
Product Specifications

Material: SEBS*

Hardness: Ultra soft

*Styrene-ethylene-butylene-styrene, also known as SEBS is great for sensitive skin and should not cause any irritation. Please feel free to look up these materials for further information.
för bred
Tyvärr fungerar det inte på mina smala fötter, tårna står ut i en smärtsam onaturlig solfjäder, Om det var tunnare material mellan tårna hade fungerat bättre. Men, fötter ser olika ut, kanske det borde finnas olika storlekar på toe spacer också.
Hej! Om du hör av dig vår kundtjänst hjälper vi dig gärna, det går att modifiera Toe Spacer Kit så att de fungerar på smalare fötter, genom att klippa till dem. Vi erbjuder en gratis workshop för detta. Maila oss gärna på support@wydefootwear.com så hjälper vi dig! /Melker
Prisvärda tåspridare
De röda tåspridarna är prisvärda men passar mig inte helt. De har för mycket volym bredvid lilltån och för lite bredvid stortån. Jag justerade och klippte bort lite bredvid lilltån så det gick att lösa men har inte försökt lägga till något bredvid stortån. Eftersom de inte sitter fast runt stortån (jag kan förstå fördelen med det) så sitter de inte riktigt på plats för mig någon längre tid utan åker upp vid stortån oavsett om jag går barfota eller har skor.
Skriv till oss om du behöver ytterligare vägledning, men låter som att du har löst det på ett bra sätt. Vi erbjuder även en gratis workshop till tåsepareraren, bara att höra av sig! /Melker
Toe spacer kit
This product didn't work for my feet. They squeezed my toes such that they reduced the blood flow. My toes turned blue after maybe 10 minutes. I will have to return them.
Hey Linda! They are supposed to be used when moving around, sitting static with them might restrict blood flow. If your toes get blue quickly even when walking after 10 minutes, our recommendation is to cut the last part out so that the little toe is not splayed. It should resolve the issue. Please let us know otherwise and our Physio-team will help you find a solution! Toes turning blue means they are needed for you because of crowded toes having a hard time adjusting to an aligned position
Positive!
I like the material and these provide more stretch than Correct Toes that I have been using for many years. Get quite sore after using them so be careful from the beginning, start with short periods of time.
One disadvantage with these compared to Correct Tors is that I have difficulties to have them staying properly on my feet for longer times, they move out of position between the big toe and the second toe (probably because my second toe is not perfectly aligned with the big toe).
Look forward continuing using them! Hopefully I will get great results.
I must also say the price is very good, much lower than Correct Toes.
Nice and fair review, Kristoffer! We also now offer a black one that is similar and cheaper than the ones you mention. Good luck in your foot healing journey /Melker
Great
Great toe spacers. Really spreads the toes, and it can fit easily into Hallux 1.0 men's shoes. They are soft.
Also you can wear them while you sleep without discomfort.
Bojan, thank you for your review and we are happy you like both the shoes and spacers. Good luck with your continued foot journey! /Melker