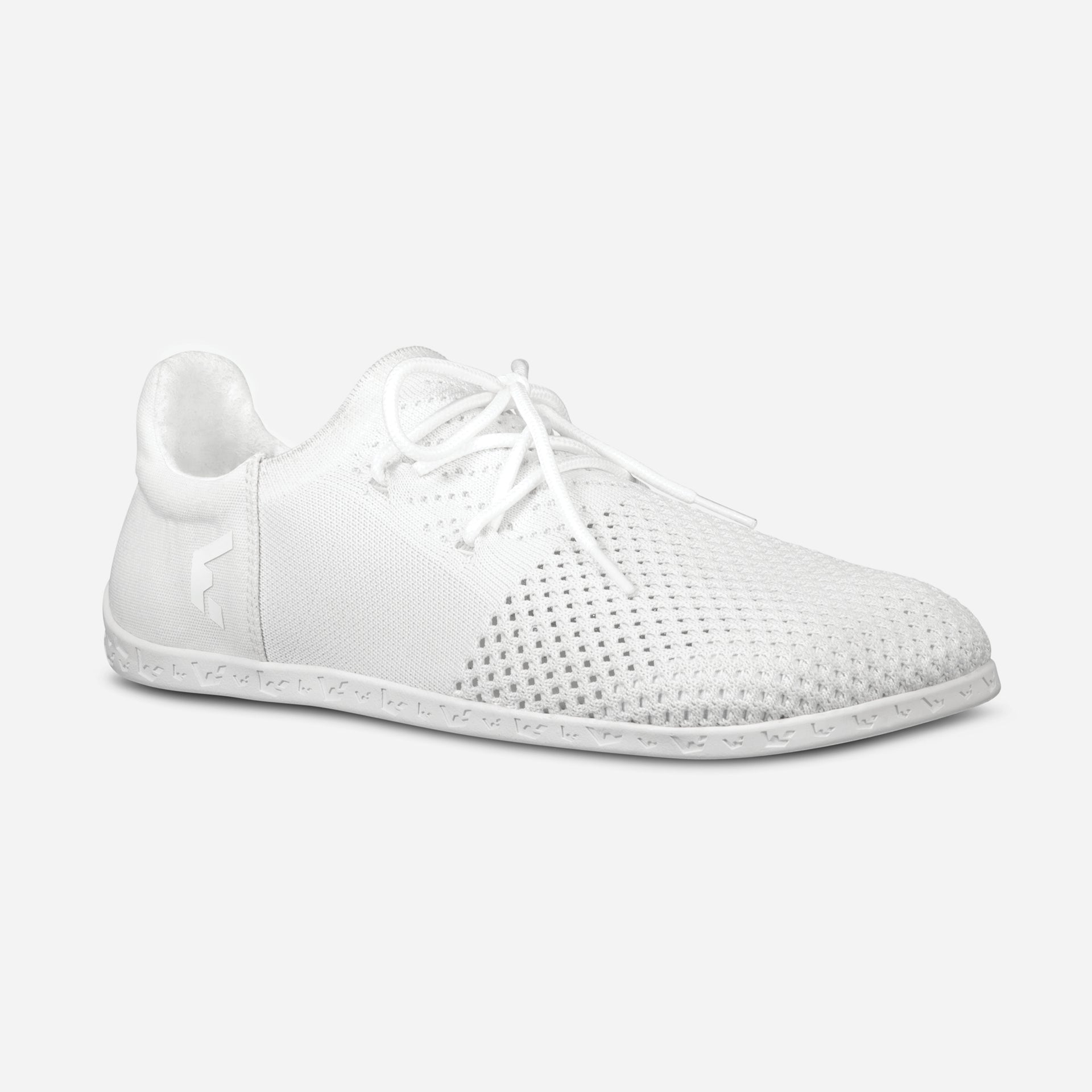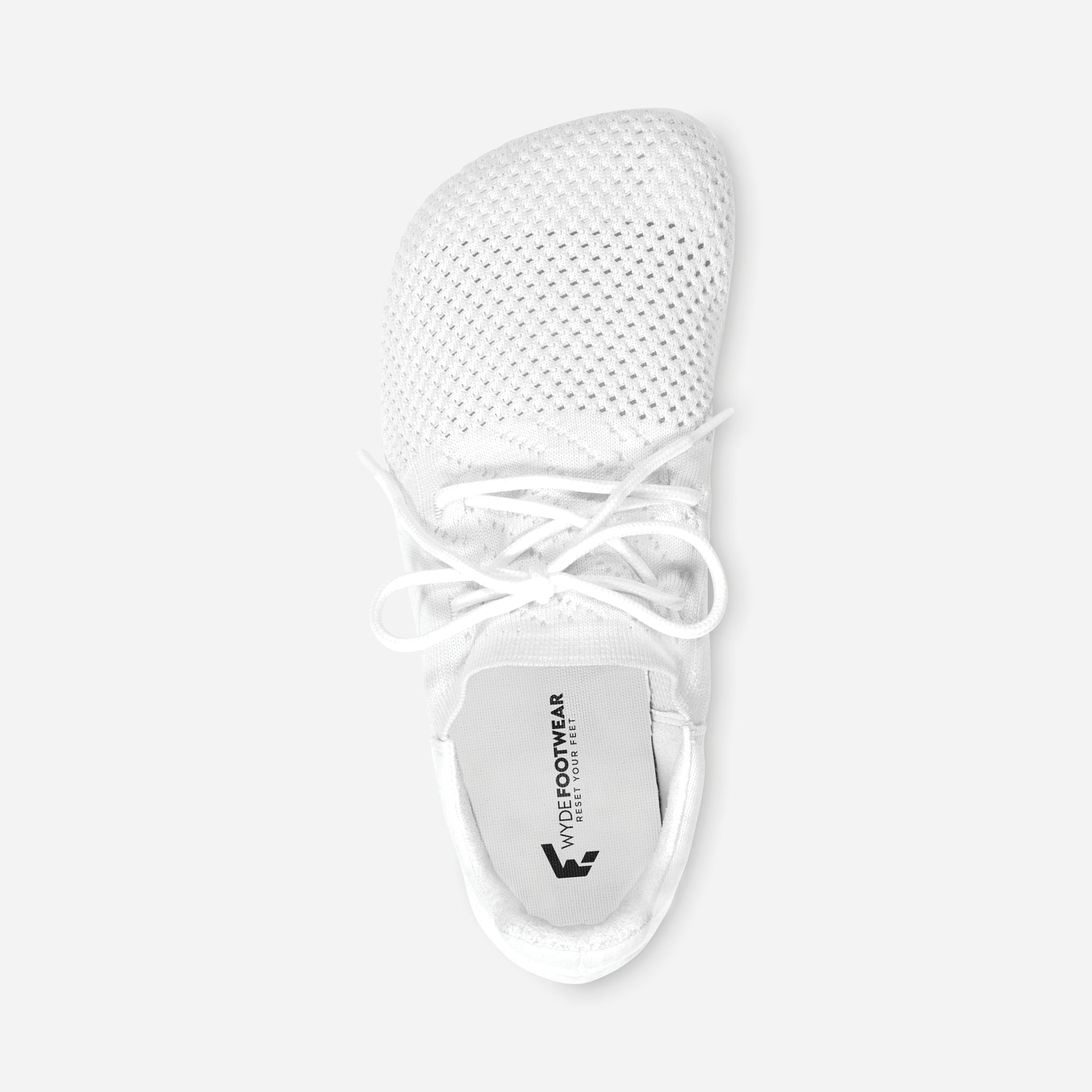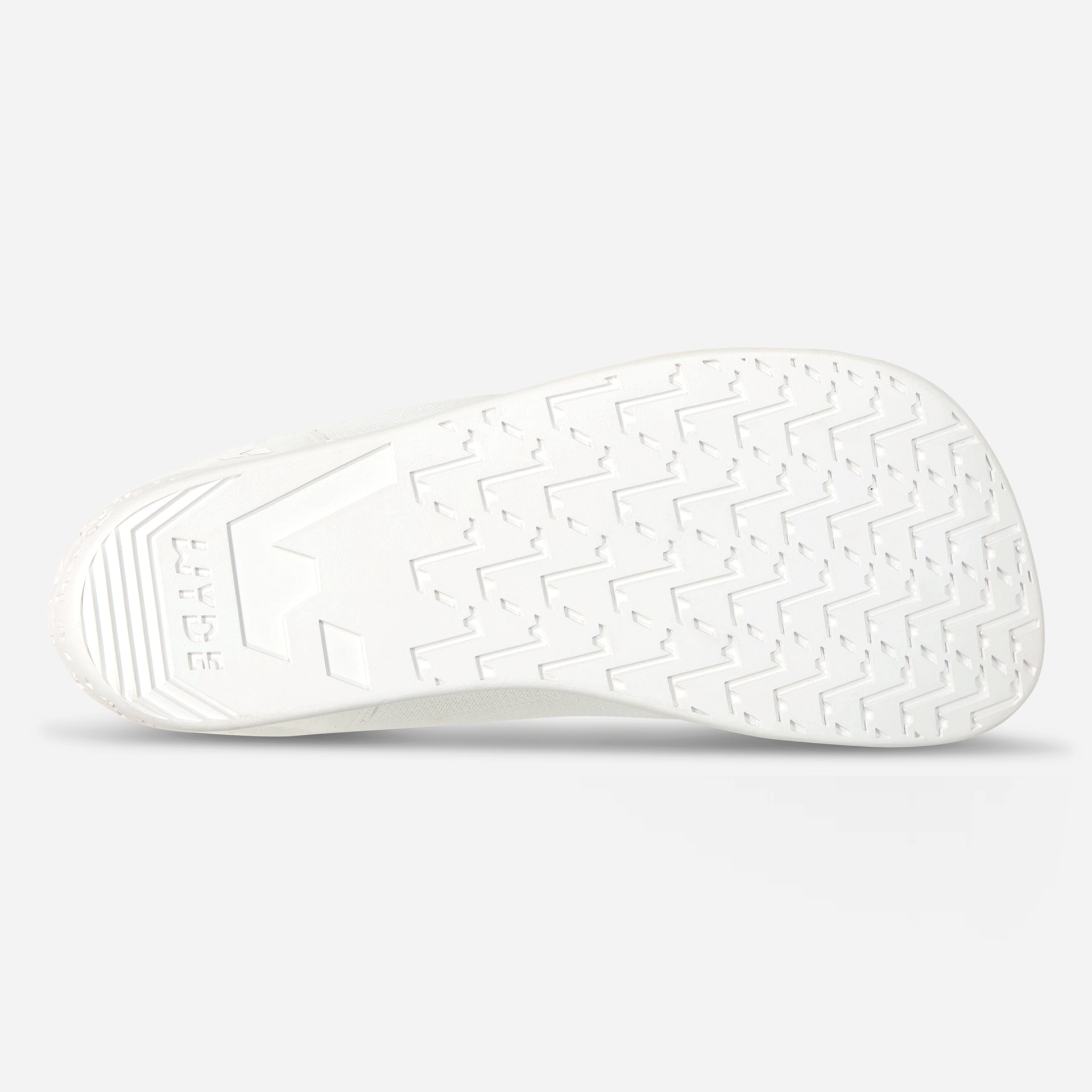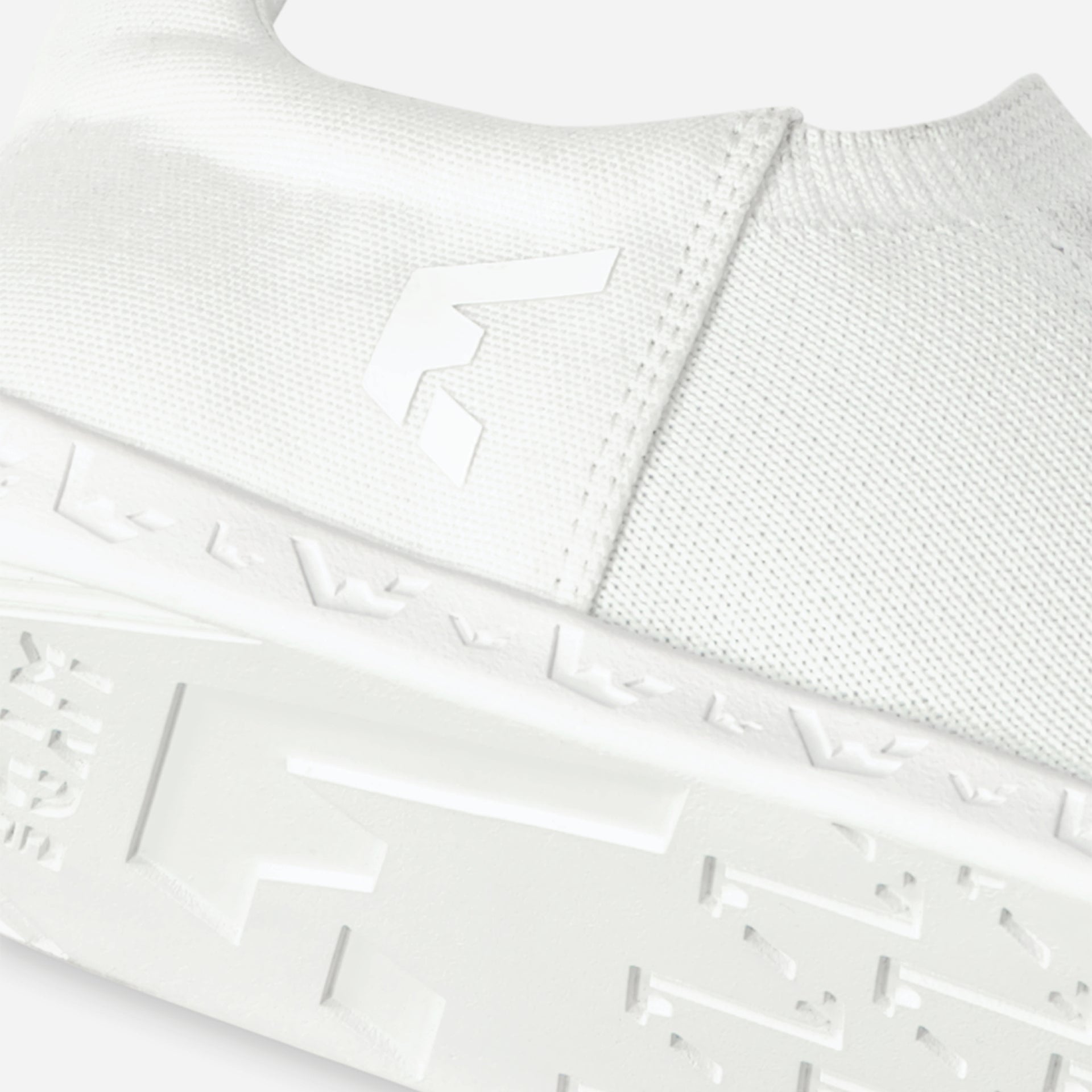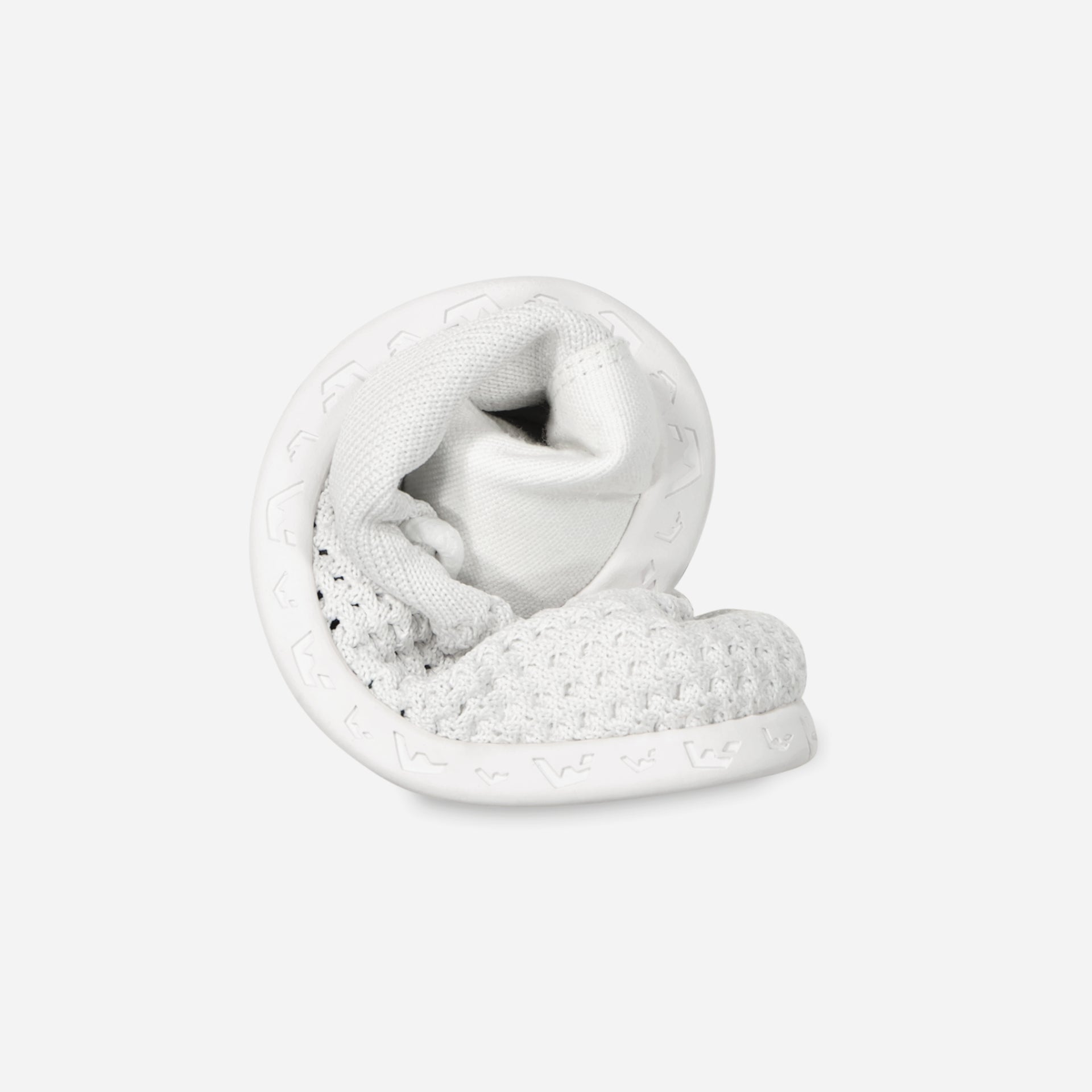 Hallux 1.0 Frost White Men's
Introducing the Hallux 1.0, a shoe that combines foot freedom with a gentle touch of Scandinavian design aesthetics. 

Designed with a deep respect for your innate foot biomechanics, the Hallux 1.0 features a foot-shaped, wide toe box and is fully flexible with zero drop and no toe spring. The unique outsole thickness of 13mm makes it suitable for a variety of activities, including everyday use, walks, hikes, gym and CrossFit, and even the office.

The Hallux 1.0 is available in three colors: Charcoal, Frost White, and Navy Blue.

To learn more about the Hallux 1.0, visit our learn page

To read our shoe FAQ, please read it here

#ResetYourFeet
Size Guide

 

We recommend leaving a margin of 0.4 to 0.9 cm ( 0.15 to 0.35 inches) in length for an optimal fit.

Even individuals with wider feet in relation to the inner sole dimensions often discover that our mesh material is accommodating, providing a comfortable fit. 

The Size Guide is applicable to both Men & Women; the only difference lies in the available color options. 

WYDE FOOTWEAR SIZE GUIDE

To find your perfect fit, follow these steps:

*video instruction below* For instructions in Swedish, please press here


Find a hard surface to stand on, such as a tile or hardwood floor. Place a ruler or measuring tape on the floor, with the end of the ruler or tape against a wall. Please make sure your ruler starts at zero or add accordingly to your total measurement.

Wear socks and place your foot on the ruler or measuring tape, with your heel against the wall. Slightly bend your knee to put moderate pressure on the measured foot.
Carefully bend down and take a picture of your measurement where your longest toe ends, or mark with a finger or pen either by yourself or with the help of someone else.
Take note of the measurement in centimeters. This measurement represents the length of your foot.
Repeat this process with your other foot, as foot size can often vary between feet.
Use the larger of the two measurements as your foot length when referring to the size chart.

Compare your foot length measurement to the size chart. You do not need to choose a bigger size or go up a size as you might do with other shoe brands. Simply choose the size recommended from your measurements.

At Wyde Footwear, we design shoes to promote healthy foot shape and function. Transitioning from restrictive shoes to foot-shaped shoes may feel unfamiliar at first. You may experience a sensation of having room for your toes to spread out and move naturally. 

However, this feeling of spaciousness is actually beneficial for your feet and can have a positive impact over time. So, if your new shoes feel a bit roomy or odd initially, there's no need to worry.

In fact, you may even notice an improvement in your balance and stability. To help your feet adjust to the new sensation, make sure you avoid wearing too tight socks. Additionally, wearing toe spacers inside your Wydes for 10-12 weeks might help your feet adapt and quicker align your big toe, providing additional benefits. 

We invite you to experience the joy of having healthy, functional feet with our shoes.
Product Specifications

- Outsole: 100% Rubber 

- Upper: Mesh/Canvas

- Inner lining: Foam/Cotton 

- Vegan: Yes 
Outstanding toebox with a less-than-outstanding everything else
These shoes have wide, square toeboxes in which human feet can fit, much unlike those from "barefoot" shoe brands founded by pinky toe amputees. Unfortunately, this is all that is praiseworthy about the Hallux 1.0. I own two pairs of these shoes, each a different size, so it is safe to say that the defects I bring up are not byproducts of occasional mishaps in manufacturing but aspects deliberately included in the design.
The outsole is a rubber slab of much more density than required of a thick 13mm sole. As a result, as pointed out by other reviewers, it is hard and rigid like the useless erasers on cheap #2 pencils, and has no grip to speak of. Underneath the big toe the bumpy edge of the outsole can be felt, which ends up being a source of major discomfort and pain.
The collar, similarly, is hard, rigid, and sharp; it abrades my socks and digs into my ankle bones. This level of discomfort would befit a dressed-up leather shoe more than a casual all-purpose sneaker, and even more so, a shoe meant to promote good foot health. I have not worn these shoes for more than a week, to be fair, and the discomforts aforementioned may assuage after some more time. However, I staunchly believe that Wyde Footwear should be holding their products to a standard above the asininity of shoes that require "breaking in" (as in breaking in your feet until they fit inside).
Lacing also needs improvement. Except for the most voluminous feet, two pairs of eyelets do not provide a secure fit over the instep and around the ankle. Swapping the included insoles with 6mm insoles achieves a better fit, but leaves too little room for the toes. Even on my smaller pair, I must tighten the laces as much as I can, and I find myself needing to re-tighten them on intervals.
I hoped to give these shoes more time before writing this review, but they are too uncomfortable to wear for any longer.
Thank you for taking your time to writing a thorough review. We will take all your points to our development team to make improvements in coming models.
We are happy that you enjoyed the toe-box, because we believe it is one of few that truly honors the true foot shape of a healthy foot.
The sole is 100% rubber and the density allows for a full big toe dorsiflexion during gait in our analysis. Compared to classic barefoot shoes, they are of course more dense and thicker and we can understand that they might feel different. This is by choice and many customers really appreciate the slightly thicker sole. Upcoming models might speak more to your preferences.
We will have upcoming models with a different lacing-system, less volume and different collar. We see different needs in different models, depending on usage.
We are thankful for your review, so that we can adapt to our customers needs and make better shoes in the future!
So far, so good!
Definitely the widest shoes I've tried so far (having tried several barefoot-brands before) which is nice! Since I'm just beginning to do foot exercises properly I'm easing in on wearing these shoes. Only wearing them 15-30 min per day for a few weeks, and plan on gradually increasing time while I continue to do foot-exercises (from My Foot Function). So far, so good. The Hallux 1.0 feel good on the feet and look great to be honest. A casual but elegant white summer-style shoe. The only reason I don't give it a 5 is because it doesn't fit perfectly on my particular feet (but that's not the shoes fault, I have asymetric feet).
Thank you Victor, nice to hear about your experience. Keep rocking the training! /Melker
Great!
Just fab. Noticed my big right toe working differently from the first step.
Amazing. This is exactly what we want. Thank you /Melker
Best shoe's I've worn in my life!
As en expert in foot health and function, I can confidently state that these shoes are the most functional in terms of their toe-box shape, without compromising on style. They offer a slightly thicker sole compared to most barefoot shoes which is ideal as it provides more comfort and protection, without sacrificing too much on sensory feedback and flexibility, if thats what you'd want. All in all, the best of all world come together in a fantastic shoe. Can't wait to see what else Wydefootwear have to release!
Very happy to hear that, Gourgen! More to come :) /Melker
Widest Toe Box By far
As a Physiotherapist I am deeply concerned with narrow toeboxes and this shoe truly solves this problem. A lot of brands talk about being wide, but this shoe is truly wide and footshaped. I love my Wydes and the Frost White color is really nice. I wear them everyday at work and they are really good looking and give a fresh impression. I have gotten a lot of positive feedback, even from patients who usually think footshaped shoes are wierd (they have seen me go through a bunch of alternatives). This shoe does really look good and I can deeply recommend the white version! Love the logo placement and overall feel of the shoe, couldn't recommend it enough!
This is great to hear and even better from a physio. So happy to hear about your experience Martin. /Melker